New Years may seem like an arbitrary date to make a major lifestyle change. However there's something to be said for the metaphorical death and rebirth of winter– the trees have shed their leaves, and now it's time for us to shed bad habits. Here's how to stick to your resolutions, and more importantly, get back on the horse when you fall off.
Start with THREE weeks. 

Experts say it takes about 21 days for a new activity to become a habit and six months for it to become part of your personality. It won't happen overnight, so stick with it! Think about how soon 3 weeks ago feels now… That will be you once you've taken your resolution to heart! 
Track success + give yourself positive reinforcement 

Short-term goals are easier to keep. Each incremental accomplishment will help keep you motivated. Write them out and keep them visible!

Instead of focusing on losing 30 pounds, focus on losing the first five. Keep a food journal to help you stay on track, and reward yourself for each five pounds lost.
Tell your friends and family
Don't keep your resolution a secret. Tell friends and family members who will be there to support your resolve to change yourself for the better or improve your health. The best-case scenario is to find a buddy who shares your New Year's resolution and motivate each other.
Outline your plan for achieving your goals (and why you're doing it in the first place), then hang it up in plain sight! 
Decide how you will deal with the temptation to skip that exercise class or have that piece of cake. This could include calling on a friend for help, practicing positive thinking and self-talk, or reminding yourself how your "bad behavior" will affect your goal.

It may also help to see a list of benefits on paper to keep your motivation strong. Develop this list over time, and ask others to contribute to it. Keep your list with you and refer to it when you need help keeping your resolve.
Take it One Day at A Time

If you totally run out of steam when it comes to keeping your resolution at the end of the month, don't worry- it happens to all of us! Forgive yourself and begin again! Recommit yourself for 24 hours. You can do anything for 24 hours. The 24-hour increments will soon build on each other and, before you know it, you will be back on track.

Even harder than that? Take it 10 seconds at a time, Kimmy Schmidt style!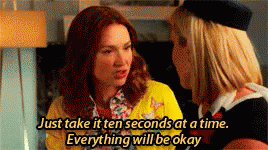 Remind yourself you can do it… and that it's okay to slip up.
Put up post-it notes or set your phone screen as a motivational quote to cheer yourself on, even when you fail!
Plan ahead

If your goal is health related, schedule out healthy choices so you aren't scrambling to is could include signing up for an exercise class or scheduling a weekly run with a friend. In terms of what you're eating, nothing makes it easier to eat healthy like a meal delivery service.